The Gem of the West Museum Society is pleased to present the 12th annual Wine and Cheese Auction, our biggest and most important fundraising event of the year!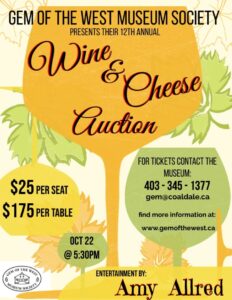 Please join us for our fall fundraiser. Tickets are on sale, and you can purchase them at the museum or phone on Monday to book your seat.
Update:
Thank you for all your support in preparing for this event. The donations have been beyond generous and tomorrow evening, the doors open at 5:30 pm for a fun evening.
The entrance will be on the side ramp doors with the greeting table at the top. There will be coat racks available and seating at any table (unless marked reserved)

Silent Auction / Music – 5:30 to 7:15pm
Food served – 6:00 to 7:00pm
Live Auction – 7:30 to 9:00pm
Auction Payments / Music – 9:00 to 10:30pm