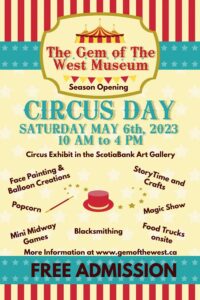 The Gem of the West Museum is opening for the season on Saturday, May 6th, and we want to kick it off with a full day of festivities. Come join us as we host "Circus Day at the Museum."
Our inspiration came from Joan Boulton's donation of beautiful circus carvings displayed in the Scotiabank art gallery all summer. She will join us for part of the day to discuss her artistic process. We will also have a collection of kid-inspired artwork on the walls surrounding Joan's Carvings.
We are trying to jam-pack the day with as much as possible, from face painting, balloon creations, carnival games, a magic show, crafts and a blacksmith demonstration during the day. Check our website for updates as they develop and our event schedule.
SCHEDULE:
Circus Day at the Museum from 10:00 AM to 4:00 PM on Saturday, May 6th
All Day
Craft Station (Thanks to the Gem of the West Museum's Art and Culture Committee)
Popcorn
Blacksmithing (Thanks to Dwayne Sturm and Doug Fujita)
Mini midway carnival games
Food Trucks
Moo Magic Ice Cream truck (Thanks to them for joining us)
That Hawaiian Burger Truck (Thanks to them for joining us)
10:00 AM to 1:00 PM
Face painting and balloon creations (Thanks to the Youth Do Crew)
10:30 AM
Storytime (Thanks to the Gem of the West Museum's Art and Culture Committee)
1:00 PM till 2:00 PM
Meet the Artist (Thanks to Joan Boulton for joining us)
2:00 PM (45 min show)
Magic Show (Thanks to Mr. Watermelon for entertaining us)